Additional Features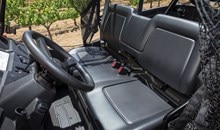 Roomy seating
The three-person Pioneer 1000 EPS features a spacious bench with improved comfort for 2017. The middle seat is positioned up and forward to maximize comfort and room.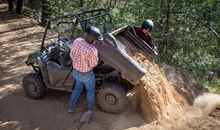 Powerful towing capacity
The tilt box with hydraulic-assist strut can hold up to 454 kg (1,000 lbs.), while the heavy-duty two-inch receiver-style hitch is ready to tow up to 680 kg (1,500 lbs.).

Safe and secure technology

The sturdy Occupant Protection Structure, standard doors with an automotive-style double latching system, upgraded front and rear torso bars, roll-up side nets, and three-point belts with an Emergency Locking Retractor mechanism (a speed limiter prevents travel faster than 24 km/h if it detects that a seat belt isn't being worn), all help keep you and your passengers safe and secure.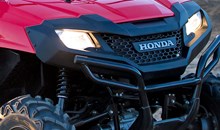 Excellent visibility
The Pioneer 700's 37.5-watt headlights have excellent balance and light-distribution, eliminating uneven light patterns and dark zones within their illumination area.
Attention to detail
With well thought-out details like a standard water-resistant glovebox door and digital instrumentation, the Pioneer 700 gives you a lot more for your hard-earned dollar. Plus, high-grip floor surfaces and foot holds help to keep you and your passenger stable over rough terrain. The sturdy new front bumper and grille will help keep your Pioneer looking great year after year.
Accessory ready
The 450-watt alternator provides plenty of power for everyday use, but allows extra capacity for accessories such as a winch or additional lighting. A host of optional accessories and accessory packages allow you to tailor your Pioneer to your needs.