Engine & Drivetrain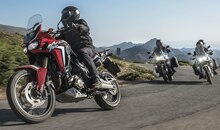 Power your adventure

Featuring the same exhilarating 998 cc parallel-twin engine and fearless Dakar Racing heritage of the iconic Africa Twin, the upgraded 'Adventure Sports' version is sure to take performance to unimaginable new heights.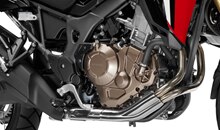 Engineered to perfection


Four-valve Unicam cylinder head design has numerous performance benefits – including lighter weight and reduced gyro effect – while also contributing to the engine's compact dimensions. A lightweight camshaft – using the same materials as the CBR1000RR's camshaft – operates the valve train.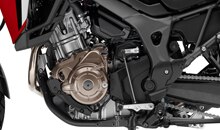 Dual spark

Twin sparkplugs in each cylinder help to produce rapid, thorough combustion.
Distinctive sound and feel
A 270-degree phased crankshaft gives the engine a distinctive sound and feel – almost like a V-twin – while helping to produce strong and linear power and instant response anywhere in the rev range. There's a deep growl as the RPM rises that will be music to any motorhead's ears thanks to the revised intake and exhaust.
Clever design integration
The dry-sump oil system with internal tank reduces engine height. Combined with the Unicam cylinder head and other design elements, this contributes to an extremely low engine height, which in turn results in generous ground clearance.
Lightweight architecture
The water pump is housed within the clutch casing, and the water and oil pumps are driven by a shared balancer shaft, all of which reduces engine size and weight.
Maximized airflow
Forward-mounted air intakes feed a large airbox. Dual air filters can be changed without removing fuel tank, and the system is designed to minimize the risk of dirt or other debris entering the engine when servicing the filters.
Dynamically responsive
The six-speed manual gearbox is both lightweight and robust – it uses the same shift-cam design as found on the CRF250R and CRF450R to ensure positive changes. Plus the all-new throttle-by-wire system and addtition of three new selectable riding modes (Tour, Urban, Gravel) deliver the right performance to match your riding style and conditions. An assist slipper clutch helps to maintain traction during downshifts or deceleration.
Innovative functionality
The Africa Twin Adventure Sports is also available with an advanced Honda Dual Clutch Transmission (DCT). It features the standard manual mode – allowing the rider to shift gears with triggers on the left handlebar – and two automatic modes. D mode offers the best balance of fuel economy and cruising comfort, while S mode cranks up the performance. S mode even allows you to choose from three different shift patterns to match your riding style or the conditions.
Exceptional versatility
The DCT is specially engineered to handle off-road adventures, thanks in part to the G switch positioned on the right side of the instrument panel. Pushing the G switch in any riding mode provides an aggressive shift pattern that's ideal for breaking the rear wheel loose in a sweeping dirt or gravel corner, or lofting the front wheel over an obstacle.
Breakthrough technology
Another benefit of the DCT is incline detection. Algorithms based on vehicle speed, engine speed, throttle input, and more, determine if the bike is ascending or descending a slope, and the system's ECU selects the appropriate gear for climbing or engine braking.
Torque control
The Africa Twin Adventure Sports even allows you to select from various levels of traction control. The Honda Selectable Torque Control (HSTC) system adjusts the allowable rear-wheel slip through 7 levels (or off).
Chassis & Suspension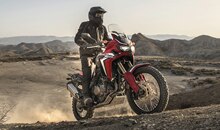 Dual-purpose design

The chassis is engineered to handle the most rugged off-road adventures, while also providing the comfort of a touring motorcycle and the everyday competence of a great all-rounder or day-to-day commuter.
Strength and agility
The semi-double-cradle steel frame uses oval-shaped tubing for extra strength without extra weight. The Africa Twin Adventure Sports model also features a larger skid plate with extended fairings and protective cowl bar.
Balanced handling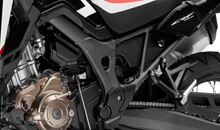 Careful attention to mass centralization – with heavy items like the battery packaged at the rear of the cylinder head – contributes to agile handling.
Nimble handling and tight control
The chassis design allows for superior manoeuvrability, with a wide 43-degree steering angle and a tight 2.5-metre turning radius.
Superior suspension

The Africa Twin Adventure Sports features increased ground clearance and longer suspension travel over the regular model, enabling the Adventure Sports version to tackle almost any terrain. The long-travel inverted Showa fork offers full spring preload, compression damping and rebound damping adjustment, and was designed specifically for a leading-axle wheel and radial-caliper mounting.
Engineered functionality

The Pro-link rear suspension design positions the shock lower at the front of the aluminum swingarm, lowering C of G even further and allowing designers to keep the seat/tank area above the shock as slim as possible.
Selectable suspension

The Showa rear shock's hydraulic dial-style preload adjuster, combined with full adjustment for compression and rebound damping, makes it easy to change suspension performance to suit street or dirt riding.
Adventure ready

Like the CRF450R Rally, the Africa Twin Adventure Sports uses 21-inch front and 18-inch rear spoked wheels, wearing 90/90-21 and 150/70-18 tires.
Superb braking system
Dual front radial-mounted Nissin four-piston brake calipers and 310 mm wave-style floating rotors provide strong braking force on pavement or dirt.
Proven Performance
Standard ABS provides confident braking control on all types of surfaces. The Adaptive Rear ABS Cancelling allows you to disable the rear-wheel ABS – a benefit in certain types of off-road riding. The system reverts to normal operation when the engine is restarted.
Additional Features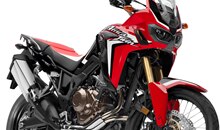 Durable construction

Following its design theme of "true adventure", the Africa Twin Adventure Sports is styled with extended fairings to create a tough off-road package. The overall design offers both weather protection for the rider and a slim, agile feel.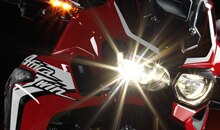 Distinct styling
The Adventure Sports version of the Africa Twin is also clad in the same instantly recognizable Honda tricolour paint and graphics as the original Africa Twin — with distinct dual LED headlights for an imposing presence while providing excellent nighttime illumination.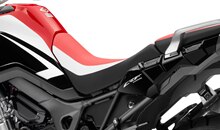 Ergonimic riding position
The Adventure Sports has a higher riding position for off-road enthusiasts with an ergonimic wide-to-narrow designed seat with wider footpegs, designed for extra comfort and easy transition when riding off-road. The seat can also be raised or lowered through a range of 20 mm.
Long-distance range

The new Adventure Sports model has a larger fuel tank versus the regular model for more long-distance travel, which coupled with the engine's excellent fuel efficiency can provide increased riding range.
Enhanced comfort and stability
Heated grips with an off-road-style tapered aluminum handlebar are both strong and lightweight with a rubber mounted design for reduced vibration.
True adventure design
An oversized 'Adventure Sports' aluminum skid plate and new protective cowl bar helps protect against damage from stones, rocks and other obstacles and a rear rack offers additional storage capability.
Advanced instrumentation
White-on-black LCD instrument panel is mounted high for easy legibility, even when standing.