Engine & Drivetrain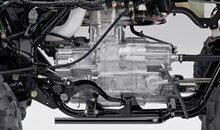 Maximum efficiency
Powerful liquid-cooled 475 cc four-stroke engine is longitudinally mounted, allowing direct driveshaft alignment to both front and rear wheels for maximum drivetrain efficiency. Overhead-valve design provides compact engine dimensions for improved ground clearance while maintaining a broad, easy-to-use powerband.
Reduced vibration
Rubber-cushion engine mounting and gear-driven counter-balancer reduce vibration.
Quick start, powerful output
Convenient electric starting, with an automatic internal-decompression system, gets you going quickly and easily. Powerful AC generator has generous capacity with 481 watts of output.
Fuel efficient
Programmed Fuel Injection (PGM-FI) system improves power delivery and throttle response, and increases fuel efficiency for extended range.
Excellent drivability
Super-heavy-duty automatic clutch with low-rpm engagement for excellent drivability and towing capacity. Rugged five-speed transmission with ultra-low first gear features manual foot shifting with automatic clutch.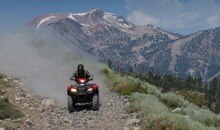 Tackle any terrain
2WD/4WD system offers three drive modes: 2WD; 4WD with torque-sensing front differential; and 4WD with locked front differential to optimize traction. The system also features a Speed Override mode that can be engaged when the front differential is locked, which allows increased wheel speed under severe conditions, such as deep mud.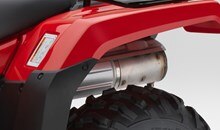 Quiet operation
Stainless-steel exhaust system includes a USDA-qualified spark arrester/muffler designed for quiet operation without servicing for long-lasting performance.
Chassis & Suspension

Lightweight strength
Durable double-cradle steel frame developed with Computer Aided Engineering is both rigid and lightweight for precise handling and a smoother ride.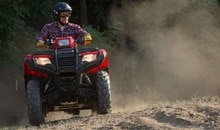 Controlled ride
Front and rear suspension both offer 185 mm (7.3 in.) of travel for a plush and controlled ride. Adjustable spring preload on all shocks allows suspension to be tuned to match varying loads and riding conditions.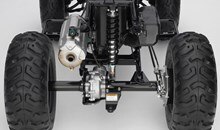 Impressive handling
Enclosed-axle swingarm offers optimized stiffness for improved toughness and excellent handling performance. Rubber swingarm pivot bushings provide excellent low-speed ride comfort and increased durability.
Optimal ground clearance
Generous ground clearance of 191 mm (7.5 in.) allows you to ride over rugged terrain with ease.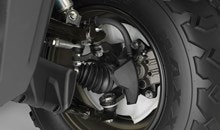 Engineered tough

Plastic CV joint boots are durable and tear-resistant. Sealed steering-knuckle bearings improve steering performance and durability.
Stopping power
Rear drum brake is located inside the right rear wheel for improved durability and increased ground clearance. Dual front hydraulic disc brakes with large 190 mm rotors provide strong and consistent stopping power.