Additional Features
Versatile seating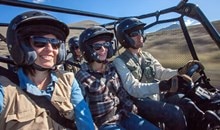 The Pioneer 1000-5 EPS LE gives you the ultimate in seating options. In addition to the comfortable three-passenger contoured bench seat up front, the bed incorporates a pair of seats that flip up or fold down independently in seconds. Up, they provide secure seating for one or two additional passengers; down, you get a flat cargo bed for utility use. We've made the seats even more comfortable for 2017.
Powerful towing
You can load a full half-ton (1,000 lb) into the bed of the Pioneer 1000-5 EPS LE. And when it's time to unload, the bed's hydraulic-assisted tilting feature makes dumping firewood, gravel, feed or other items easy. And because it's able to tow a full ton (907 kg/2,000 lb) – with an even stronger hitch mount for 2017 – the Pioneer 1000-5 EPS LE can take on big jobs that otherwise would require a tractor or a truck.
Secure design
The Occupant Protection Structure uses large-diameter tubing and includes integrated handholds, recessed top tubes and a more spacious structure to enhance protection. Hard doors and roll-up side nets provide a secure feel and keep mud and debris out of the cabin, while automotive-style three-point belts with an Emergency Locking Retractor mechanism help keep everyone secure. New for 2017, a speed limiter prevents travel faster than 24 km/h if it detects that a seat belt isn't being worn.
Intuitive display
The Pioneer 1000-5 EPS LE features deluxe, multi-function LCD instrumentation that displays fuel level, engine speed (rpm), vehicle speed, tripmeter, odometer, a clock, gear position and much more.
Terrific visibility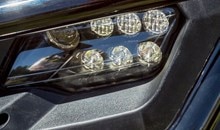 LED headlights provide excellent nighttime illumination.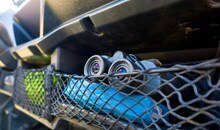 Take it with you
Ample storage space under the seat and under the dash gives you extra room to stash all your gear. The LE even includes handy rear cupholders.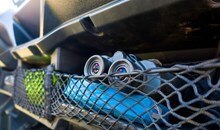 Easy add-ons
The Pioneer 1000-5 EPS LE is already pre-wired to make adding an optional winch a snap, and a host of other accessories allow you to fully tailor your Pioneer to your specific needs.
Extra protection
Aluminum A-arm guards and an aluminum skid plate help to protect your Pioneer from bumps and bruises during your off-road adventures.